Curators Choice : Brand New Collaborations with Kiuchi Hand Craft.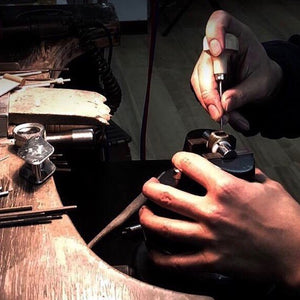 We introduced Kiuchi Hand Craft last year through out Curators choice section on our website. Very occasionally we come across elusive products and makers on our travels that overwhelm us, to highlight this we have created "Curators Choice".
After a brief and serendipitous meeting with Yusuke Kiuchi in Osaka at a bar one night he showed us some of his outstanding work. We have since been working closely with him to select an exclusive collection of Kiuchi Hand Craft jewellery to offer to you through our Dawson Denim store. 
Kuichi Hand Craft
Owned and made by Yusuke Kiuchi AKA "QP". 
In 2016 QP started his own atelier Kuichi Hand Craft in Takamatsu City, Kagawa. With a plan to mix original Japanese design with Western Culture. These pieces are all hand made in Japan with great skill and passion and are currently unavailable anywhere in Europe apart from here Dawson Denim Curators Choice. We are proud to show you his work.
After graduating from Osaka Art School he took a 10 year apprenticeship at a Jewellery Processing Technology Company in Nishinomiya City, Hyogo. He gained a First Class award for Precious Metal Accessory Production Technician in 2016.
Dawson Denim x Kiuchi Hand Craft Hand Collaborations
We are proud to introduce three brand new collectable and limited edition pieces made exclusively for us by Kiuchi Hand Craft, a heavy brass and silver Dawson Denim Lanyard, Signet Ring in silver and gold and a customisable Business Card Holder. Available only here online.