Dawson Denim Day 2016 : The BBQ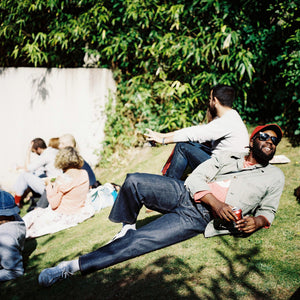 As we mentioned Sunday the 21st August saw a day of two halves.
Back in April we'd met up with Jim Marsden, photographer and bandit. He'd come up with this master plan to get all our friends together for an afternoon and evening with an aim to shoot our products on those people who's supported our venture from the beginning.
He loved those images of the 1950's beatnik dens with hep cats and so did we, his aim was to recreate that. As with anything if it's going to be authentic it has to be done the right way, Jim shot all of the images that day on film on his Leica M3 and M2 and Rolleiflex 2.8F.
This was the first Dawson event since we began in 2012. We sent out some invitations and got to work contacting our favourite food and drink brands. Dark Star Brewery who already use our aprons in some of their pubs were so generous in offering up some of their American Pale Ale to get us going. We can't thank James and his team enough for his support. Plus we got to sup some brilliant local brewed ale.
For those who we knew would be working the following day we didn't want to leave out either and Karma Cola who had already help us host an event at Timothy Everest sent us crates of their Gingerella, Lemony Lemonade and Karma Cola.
That was the drinks but the food had to be local and the best so Brighton Sausage co came through for us with around 10 kg's of locally made sausages. The Real Patisserie freshly baked baguettes Win!
Thanks so much to all of those who came down to the South Coast, same time next year?