The First Dawson Denim Day 2016 : The Workshop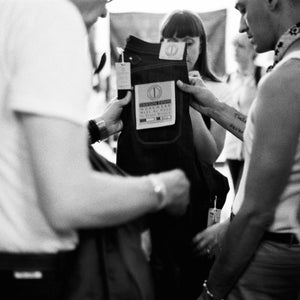 Sunday the 21st August saw a day of two halves.
Back in April we'd met up with Jim Marsden, photographer and bandit. He'd come up with this master plan to open up our workshop and document the day. He loved those images of the 1950's beatnik dens with hep cats and so did we, his aim was to recreate that. As with anything if it's going to be authentic it has to be done the right way, Jim shot all of the images that day on film on his Leica M3 and M2 and Rolleiflex 2.8F.
So after some major preparations and for the very first time we opened our doors to those who wanted to see the inner workings of Dawson.
Small Batch Coffee jumped in to fill us with some of their "Blue Note" coffee to keep us all going and in everyone came. Around 60 brilliant people came and went that morning, we gave a brief talk over the history of denim, how we make our jeans and how we got to where we are in 4 years. 
We also launched a brand new fit, the Standard. We hooked up with the excellent Dry British who created some special artwork for the new jeans, we'll only be making 60 of this style that come with Kasuri pockets, Dry British and Dawson Patch and collectable felt pennant. Those who came got a generous discount if ordering on the day.
We held some competitions too a limited Edition "Don the Dawson Denim Dude" print by Dry British screen printed by The Private Press and a Mechanic apron as prizes.