Craig Simpson, Artist.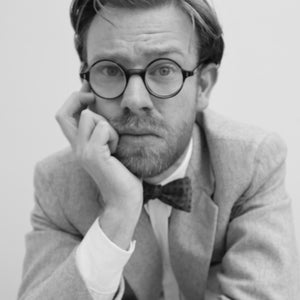 "A quite exceptional self-taught artist, Craig was born and brought up very close to Manchester; relocating in his late teens to Brighton, Craig began to express both himself and those around him through paint, building a solid reputation as a painter of portraiture. Returning recently to his hometown, Craig continues to focus his work around a figurative narrative, but with a very individual method of expression. With undertones of both Stanley Spencer and Lucian Freud, Craig's works often have a feel, through tone and subject matter, of a Britain of the 1940s and 50s, an era Craig immerses himself in through his daily life." - Castlegate House Gallery.
We here at Dawson HQ have known Craig a number of years through the Brighton Mod and Rare Soul scene and it completely took us by surprise when his art came to our notice, we were instantly taken by his talent and ability to capture in oil on canvas the many faces of Brighton and beyond that we would invariably pass by in the Laines. Sure, there's a million and one artists residing in Brighton, but this was on another level of skill and ability. His work has already been exhibited at Saatchi and was shortlisted for the RP.

When Craig offered to paint us at work we were sincerely honoured and jumped at the opportunity. We are proud to feature in Craig's new series which is named  'The Table' in which he focuses on real creative people. The idea behind this series was to take the mundane, something we do everyday, and bend the perspective to create a slightly strange and surreal image which engages the viewer. 
Craig is represented by
Castlegate House Gallery
, specialising in the best twentieth century and contemporary British artists, including Frank Auerbach, Grayson Perry, Leon Kossoff and many others. Contact the gallery for further information and sales.