DAWSON AW22 - THE WASHED SERIES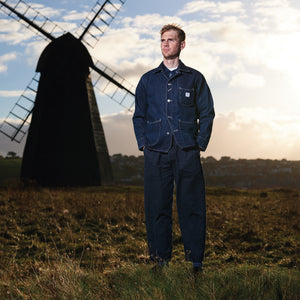 The Shoot.
To exhibit our new collection, we took to the hills of Sussex for a new shoot with Kenny McKracken inspired by Grant Wood and the rural American Midwest. First light on a crisp autumn morning provided the perfect backdrop for our new garb and fortified our appreciation for the great outdoors, something that can go missing amongst the demands of everyday life.
The Collection.
We've teamed up with Britain's leading denim laundry for our AW22 collection to apply authentic and sustainable washes to a selection of our Japanese Selvedge workwear. If you've not reached that perfectly worn-in look with any of your Dawson products yet, this is your chance to own one of our iconic silhouettes in a beautiful pre-wash full of nuance and character.

Using a bleach and acid-free enzyme wash, our forward-thinking laundry neutralises the ph of all water used in the wash before recycling it, leading to a more environmentally friendly process that aligns with our morals here at Dawson.

As well as a whimsical palette of washed indigo hues, you can expect your Dawson Wash garment to soft and ready to wear right away, waving goodbye to long break-in periods and shrinkage and saying hello to comfort and style right off the bat.
The AW22 cookbook was shot by Kenny McCracken, a photographer / film maker based between London and Brighton. His background is in the music industry and it seemed obvious that he should combine his love for both music and photography into one career. Classing himself as a "lensman" he can swap from Photographer to Cinematographer which he proves clearly in the new campaign for Dawson Denim.