DAWSON X TSPTR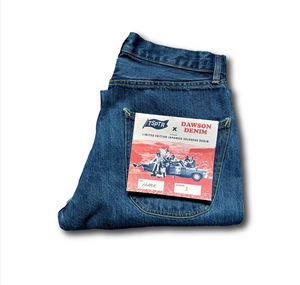 Longtime fans of Dawson Denim will know that we and TSPTR go way back. A brand fuelled by counter-culture, protest, film, and music, we found common ground with TSPTR forming a relationship that has given rise to conversations, collaborations, and truly special clothing that speaks to the ethos of both of our brands.

This year, we've teamed up with TSPTR once again to create three exclusive silhouettes, each made in super limited quantities by us in the Dawson workshop. This time around it's all about the blue stuff. Washed denim, five-pocket jeans, and Japanese indigo-dyed sashiko. And it couldn't have turned out much better - let's take a look.

TSPTR X DAWSON DENIM BUDDY SACK JACKET


Named after Lee's iconic mid-century mascot, the TSPTR x Dawson Denim Buddy Sack Jacket draws on our tried-and-tested Sack Jacket silhouette with a few exclusive tweaks for the TSPTR gang.

The jacket is made from 14.25 oz. Japanese organic cotton redline selvedge denim, washed by Britain's leading denim laundry using a bleach and acid-free enzyme wash which leaves the water used clean and neutral, allowing it to be recycled — a more environmentally friendly process that aligns with our ethical standpoint.

Not only does this wash leave the denim with a level of fading and character, it also softens the fabric for ease of wear right from the start. We turned the texture levels up a notch by adding washed Japanese sashiko patch pockets which will fade in their own unique way upon the denim backdrop.

Limited to just 25 pieces, each TSPTR x Dawson Denim Buddy Sack Jacket in made in the Dawson workshop using vintage sewing machines and comes finished with custom codelite buttons, contrasting gold sewing thread, bartack reinforcements, and a selvedge locker loop in the neckline.

TSPTR x Dawson Denim Hopper Jeans


Film is a bubbling pot of inspiration for both TSPTR and us at Dawson Denim, so it was great fun to develop the Hopper Jean for this collaboration. We took inspiration from the jeans worn by legendary actor artist and director Dennis Hopper in the 1960s, tweaking and perfecting the fit and details to make a unique pair with a great story. Kelly couldn't have been happier about this having had chance to have a drink with the man himself in London's now defunct Cobden Club.

The Hopper jeans are made from 14.25 oz. raw selvedge red line denim, made in Japan on vintage Toyoda looms from pure indigo-dyed yarns. Like the Buddy Sack Jacket, these jeans have been washed at our partner denim laundry using an eco-wash that leaves the denim with a character of its own, as well as softening the fabric for improved comfort and drape. Check those train-track fades down the outseam and the roping 'round the hems!

The fit is a relaxed-but-tidy silhouette with a higher rise for mobility and a gentle taper from the knee to the hem. We injected some proprietary Dawson goodness into the jean with our signature rear pockets inspired by the scoop pockets usually found on 40s / 50s US Navy apparel, and opted for a gold sewing thread typical of the 1960s.

Limited to just 25 pieces, each pair of Hopper Jeans are made in the Dawson Denim workshop on vintage sewing machines from the likes of Reese and Union Special and come finished with copper rivets, a selvedge fly, heavy-duty natural HBT pocket bags, and a limited edition pocket flasher to mark the collaboration.

(Please be advised all pairs have a 32" inseam)

TSPTR x Dawson Denim Sashiko Zuma Pants

The Zuma Pant is a TSPTR classic, and one you may remember from our collaboration back in the summer of 2021. It's a wide-tapered silhouette with two roomy patch pockets on the thigh, pure laid back comfort which looks ace when made up in the right fabric.

This year, we've reworked the Zuma with a really special 10 oz. indigo sashiko fabric from Japan's legendary Nihon Menpu Mills. This fabric is woven to replicate Japan's infamous Sashiko embroidery, an Edo period style in which thousands of stitches are made to resemble grains of rice sometimes done in patterns but often just in long lines. This particular weave was often used in Kendo clothing. We worked with the aforementioned denim laundry to give this incredible fabric a vintage wash that gives you a headstart in the fading department, as well as a completely unique garment.

Limited to just 25 pieces, each pair of TSPTR x Dawson Denim Sashiko Zuma Pants are made on vintage sewing machines in our Brighton workshop and finished with Reese 101 buttonholes, custom buttons, and a chain stitched hem.

THIS LIMITED COLLABORATION IS ONLY AVAILABLE AT TSPTR.COM