Focus - Julian Balme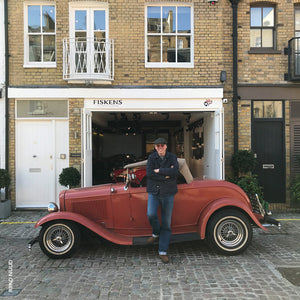 We first met Jules many years ago at Godwood Revival, with his beaming smile and laid back demeanour he made great company, with his fleet of cars ranging from a mid 50's Pan- American Lincoln, '32 Ford, Lincoln Zephyr and his crazy '57 Ford Gasser "Candy Twist" we had lots to talk about.

Humble as he is we didn't know of his legendary status within the music industry until others mentioned it "Oh yeah he designed the "Madness : One Step Beyond" sleeve. Adam Ant, Cypress Hill, Inxs etc etc" and what would finally pique our interest 5 Clash Albums amongst them Sandinista - a game changing Album which toured in the States with the insistence of Don Letts to have Afrika Bambaataa in support, brought Rap exposure to thousands of white teens for the first time, changing the success of Hip-Hop forever.

Jules - We Salute You.