HOW TO STYLE... WITH HELEN LARGE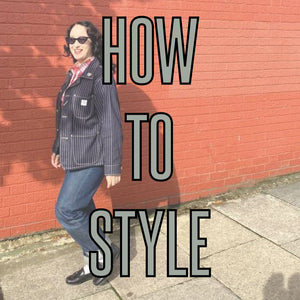 Introducing Helen Large we first met at a launch party for a collaboration we did with tailor Timothy Everest. We instantly hit it off, with her sharp sense of humour and style for days. Here she is in our Women's Wabash Sack Jacket.
"As a girl who loves the 40s and 50s aesthetic, there will always be a nod to those eras when I wear this jacket, high waisted jeans are always a must, and on this occasion I've opted for a "college" look with my loafers and white socks, teamed with a simple plaid shirt, and of course my trusty red lipstick! "
SHOP THE DAWSON WOMENS WABASH SACK JACKET HERE 
If you own one of our pieces, you're part of the Dawson Owner Club. We'd love to see how you style it! Tag #dawsonownersclub on Instagram and we'll feature you on our page and blog!