How to style... with Dachi Rasmussen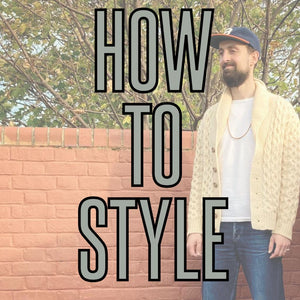 Introducing Dachi Rasmussen, we first met in a coffee shop in Brighton when we spotted him wearing our Deck Jumper. Which he bizarrely bought in a store in Germany - we could have saved him the trip. His style is a mix of vintage and heritage wear and collects vintage watches.


"The Dawson denim items I own have a contemporary feel to them. That's my favourite thing about the brand. It goes far beyond reproducing classic vintage wear. This makes the clothes feel personal, as you know Scott and Kelly have thought about exactly why each detail is the way it is. I tend to mix my style up, it's sometimes 'rugged', vintagey and sometimes a bit smarter. My wide tapered jeans and my engineer jacket are a firm part of the rotation though. They go with pretty much everything I wear."
SHOP THE DAWSON WIDE TAPERED FIT JEANS : DD014 NATURAL DYED INDIGO 14.5OZ HERE AND THE ENGINEER JACKET : DD012 SASHIKO INDIGO DYED DENIM HERE
If you own one of our pieces, you're part of the Dawson Owner Club. We'd love to see how you style it! Tag #dawsonownersclub on Instagram and we'll feature you on our page and blog!