HOW TO STYLE... with Kelly Dawson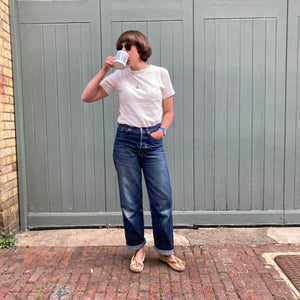 OUR CO- FOUNDER KELLY DAWSON OF DAWSON DENIM SHARES SOME OF HER FAVOURITE PIECES.
Name: Kelly Dawson 
Location: Brighton and Hove
Profession: Co-Founder Dawson Denim
Instagram : @dawsondenim
I love that moment about 18 months in when a new pair of raw Selvedge jeans are finally broken in. My style is well researched and has its foundations in the countercultures of the 60's  this combined with traditional clothing. I cite the style of those Ivy League students and 60's surfers for reference.
I wear all Dawson Denim with :
Breton by Amor Luxe
Pumps Moonstar Japan
Trainers by Saucony 
Moccasins are by Minnetonka
Loafers by Bass Weejun
SHOP THE DAWSON WOMENS COLLECTION HERE.
If you own one of our pieces, you're part of the Dawson Owner Club. We'd love to see how you style it! Tag #dawsonownersclub on Instagram and we'll feature you on our page and blog!