Out to Sea.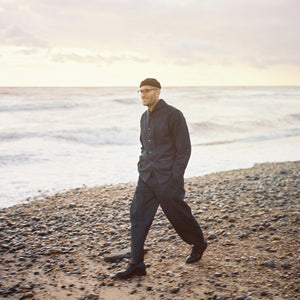 We had a vision for our new shoot in our minds eye for quite some time. We wanted to encompass part of our lives as we live on the South Coast of England however we did not want another clichéd bucket and spade seaside shoot. We wanted to create a timeless aesthetic with the terrain creating a luna landscape visual - an other worldly photoshoot.
As always, having these thoughts is easier than realization. This is where our man Jim Marsden made it possible. Jim works only in film, shooting on 1950's Leica's and Rolleiflex camera's. His selection of film stock is his closely guarded secret often using stocks that are old and no longer in production, as is the pushing and pulling and processing.
This traditional approach creates it's own aesthetic and the limitation on film exposures forces the photographer to consider each shot more, that film ain't cheap! Additional pressure came from the timing of the tide and a short 20 minute storm. We had a very small window of time to complete the shoot because of Mother Nature, but we made it.
With special thanks to Jim Marsden.