Talkin' Peanuts with Russ Gator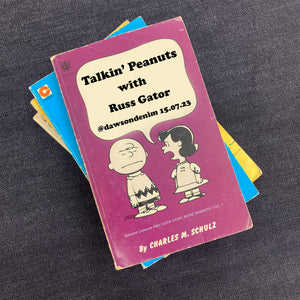 On Saturday 15th July 2023, we will be hosting a talk on Peanuts with Russ of TSPTR, at the Dawson Garage in Hove, U.K. Russ is a long-time friend and collaborator of Dawson, and his knowledge of Peanuts and its sartorial history is unmatched within our niche
Russ is one of the only individuals in the industry to have a working relationship with the Schulz family - the surviving relatives of Peanuts creator, Charles M. Schulz. This relationship has allowed him to develop proprietary Peanuts designs with the blessing of the Schulz family, and learn even more about the cartoon franchise which has close cultural connections with counterculture, fashion, militaria, and more. This has led Russ to become an authority on the history and social context of Peanuts, which culminated in his curation of the landmark 2019 Somerset House Exhibition, "GOOD GRIEF CHARLIE BROWN". You may also remember our collaboration with TSPTR last year, which featured exclusive Snoopy designs facilitated by Russ.
We can't wait to hear what Russ has to teach us about Peanuts and want you to be there, too. If you wish to attend this event, please RSVP on the event link here. Spaces are limited, so please book early to avoid disappointment! 
Children must be accompanied by a responsible adult, this event is held in an industrial workshop, any accidents occur at your own risk.
In addition to attending the talk, you will also be able to shop the full range of Dawson products, including our new summer weight selvedge jeans which have arrived just in time for the glorious weather we've been enjoying. 
We look forward to seeing you there! If you have any questions about the event, its accessibility, or anything at all - just give us a shout at sales@dawsondenim.co.uk 
RSVP TO GET YOUR FREE TICKETS

HERE