Top 5 basics with Kim Darragon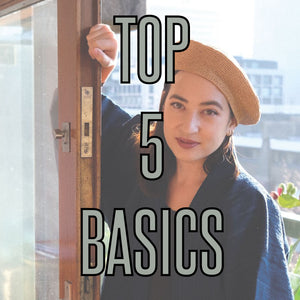 Introducing Kim Darragon, founder of Kim Does Marketing. She's got a
je ne sais quoi
French flair for matching Asian styles in the Brutalist London block she's lucky to call home. We met Kim four years ago when she came along to one of our BBQ parties in Brighton and got along straight away.
Name: Kim Darragon
Nickname: Kimie
Location: Barbican, London
Instagram: @kimdoesmarketing

Your Dawson Denim basic:
My lovely Dawson Denim Sumae Jacket. I'm obsessed with vintage kimonos. When I went to Tokyo 5 years ago I brought back 3 beautiful kimonos (yellow, pink and blue) which I found in a vintage shop in the backstreets of Omotesando. But I don't wear them often – they're safe in my wardrobe. That's why I love the Sumae Jacket – a 1930s-inspired, gorgeous indigo kimono. It's perfect for everyday wear, especially right now when I'm working from home. I can't wait to wear it outdoors with a colorful T-shirt when spring comes.
Your WFH outfit:
London's third lockdown has killed any remaining efforts at glamour that I once had. Putting on some decent clothes – aka a real pair of trousers and shirt – when working from home is a mood boost, but to be honest recently I've been enjoying the comfort of my Rototo socks and a cream woollen jumper that I've been wearing for years. Comfort brings me joy and bliss at home.

Your comfy recipe:
Kaprao – it's the most comfy dish in Lao and Thai cuisine (I'm half French, half Laotian). Kaprao is a killer combo of stir-fried chillies, garlic, holy basil and meat (either chicken, pork or beef). You serve it with rice and top it with a fried egg. It's so simple, so tasty, so delish. It reminds me of my family's cooking.
Your DIY activity:
I started making beaded bracelets during the second lockdown last year. I wanted to enjoy some time away from digital screens and decided to get crafty. I went back to my favourite childhood activity: beads. Hey, nostalgia! My bracelets are funky and colourful. They celebrate everything from freelance life, female entrepreneurship and marketing, to mental health and food. They're pretty fun. You can stack them, too. Check out Kim Does Beads for more!
Your morning ritual:
I drink a little bottle of Yakult, a probiotic drink to build immunity and improve digestion, every morning. I read a lot of articles last year about gut health and how it's linked to pretty much everything, from mental health and heart health to immunology. So I've decided to give it a go. So far, so good :)
SHOP THE DAWSON SUMAE JACKET HERE.
If you own one of our pieces, you're part of the Dawson Owner Club. We'd love to see how you style it! Tag #dawsonownersclub on Instagram and we'll feature you on our page and blog!