Trip to Japan #1 - The Mills.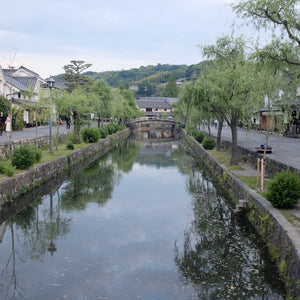 So it was time for our annual trip to Japan. We timed it just after cherry blossom season and just before rainy season, May proved to be perfect for a trip to visit our Mills in Okayama prefecture. We landed in Tokyo and hopped the Shinkansen for our 4 hour journey to Kurashiki, birth place of Japanese denim. Which still holds in high esteem it's history of the fine art of weaving cotton, Kurabo's original weaving mill now a fancy Hotel sits proudly in the heart of the Bizan area the historic part of the town known as Ivy Square . We always stay here, makes us feel close to our product.
We work with 3 mills in Japan, we have built strong relationships with all of them. Each one offers a different product, there is no competition but a joint responsibility to help grow our small company with the help of a wealth of experience. This experience is vast, Japan has a great tradition of dyeing with indigo dating back 1000 years to the start of the Edo period. Our mills are in their 6th generation of family ownership. Originally producing Kasuri fabric, before a shift in young Japanese style from traditional dress (Kimono) to a more Western look determined the product : jeans for the last 60 years.
The concept of production in Japan is very different to how it works here in Europe. Mills will work together to join their strengths and will often share processes, some Mill's will excel in dyeing for example and will often dye rope for other Mill's weaving processes, a community spirit. They may not share all their secrets but will be willing to help with production where necessary. Something that doesn't happen here. This also extends to manufacture, for example there's one factory owner with an amazing waistbanding machine that may attach the waistbands on multiple brands jeans. All however; weave in the original way with original looms such as the Toyoda or Imamura looms. Here's a few images we were allowed to show you on behalf of our partners.