Trip to Trickers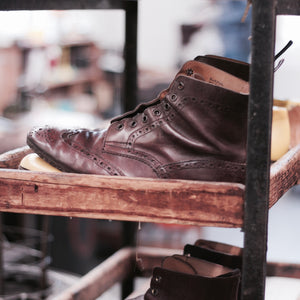 Founded in 1829 by Joseph Baltrop and once called Baltrop the business was renamed in 1862 when James Caltrop married  Claire Louise Tricker.
Today the business is one of only 5 surviving shoe makers out of some 50 companies that operated in the area during the 20th Century. Nicolas Baltrop, the fifth generation recently retired and Trickers have welcomed Martin Mason to the helm.
90 people work at the Victorian factory on St. Micheals Road in Northampton, an impressive black lead windowed facade with original stained windows. Many of the employees decend from cobblers and the company provides a job for life.
The skill is learned on the job, working every process until perfected. We met with Scott who has been with trickers for 19 years, his father brother and cousins all worked within the company he now manages the bespoke service. We were expecting a 10 minute tour of the factory but was surprised to see that 3 and a half hours had passed when we finished. Scott showed us all 155 processes involved in making just one pair of Trickers shoes we met with the operatives and saw the stock rooms. Like us at Dawson Denim they are still working on original machinery with the traditional techniques. All Trickers shoes can also be repaired which is done on site by hand.
Trickers have been retailing from  67 Jermyn Street, London S.W.1 since 1935 although there has been a shop near this site since 1925.
You can follow trickers on Instagram 
Here's their website : http://www.trickers.com