Top 5 basics with Damien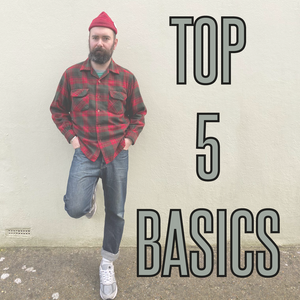 Introducing Damien, a vintage specialist and self-taught analogue photographer. Having worked for years at vintage stores in Brighton, his knowledge is a goldmine – so we were thrilled to have him at our workshop for a bit recently. Here's the top 5 essentials he can't live without.

Name: Damien
Nickname: Damo
Location: Brighton
Instagram: @outofstep_photo
Your Dawson Denim basic:
My Dawson Denim Standard Fit Jeans
Your WFH outfit:
I had to dress as I would for work as I teach on zoom, I generally would pop on a Pendleton and chinos in spring but this new lockdown has got me in jeans and knitwear which I've discovered is a pain to sit in all day! though doing that has enabled me to have some boundary so my home doesn't suddenly feel like a permanent class room.


Your comfy recipe:
Ramen, any kind and it's simple enough for me to make 🤣


Your go-to music to lift your mood:
Go to music is definitely country music and song to lift my mood Gram Parsons - Ooh Las Vegas


Your DIY activity:
Before we were all locked down photography was a major hobby but with the first lockdown I transferred that to home developing and making prints which has been great to re-learn that process and keep a positive mindset.


Your morning ritual:
On a school day coffee and breakfast I'm the staffroom and being around some inspirational people, this has now transferred to zoom which is weird but nice to see everyone's faces before we go ahead with our day.


Your 2021 mantra:
Still working on that one 🤣



If you own one of our pieces, you're part of the Dawson Owner Club. We'd love to see how you style it! Tag #dawsonownersclub on Instagram and we'll feature you on our page and blog!