DAWSON X BMW LIFESTYLE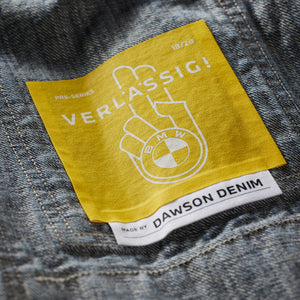 DAWSON X BMW LIFESTYLE
Over the years, Dawson has collaborated with a number of brands and makers, from Savile Row Tailors, Silversmiths and Counterculture Icons. However, for every collaboration made there are numerous partnerships we have turned down. Regardless of size or stature, we think collaborations should be organic and meaningful, and that isn't something that is always achievable. 

Long-time fans of Dawson will know that we're passionate about vintage motoring. This can be seen in the Dawson Garage, which has a BSA Bantam on the shopfloor, through to the Service Book that ships with each Dawson Product. So when BMW lifestyle approached us to collaborate, it's safe to say our interest was piqued. 
It goes without saying that BMW is one of the most iconic motoring companies of all time, producing some of the most recognizable cars and motorbikes ever over its 107 year history. When the brand approached us, images of the BMW R11 in Wes Anderson's Grand Budapest Hotel sprang to mind, followed by fond recollections of the Bavarian manufacturer's 'Art Car' collaborations with Andy Warhol, Robert Rauschenberg, and David Hockney. A chance to join that list of collaborators whilst honoring our brand's philosophy was something we couldn't turn down.
The first "BMW ART CAR" 1975 ALEXANDER CALDER.
Seen here at the recent centenary exhibition at Le Mans on land from the BMW Museum, Munich.
THE JACKET
We balanced BMW's high end specifications with our historical workwear expertise and manufacturing methods to produce the Dawson x BMW Mechanics Jacket, an updated take on classic 4-pocket coverall jackets worn by mechanics and engineers across the western world throughout the 20th century. 
The Dawson x BMW lifestyle Mechanics jacket is made from 14 oz. Organic cotton red line selvedge denim, washed for patina and softness by one of the U.K.'s leading denim laundries. This mid-weight fabric is tough enough for work whilst having the right amount of drape for a handsome modern garment. The silhouette is fitted with 4 patch pockets, one of which has an additional smart-phone pocket with visible selvedge ID –  a utilitarian detail with flair. A point collar and gently tapered sleeves round off the regular-fitting silhouette, which is constructed with triple-stitching, flat-felled seams, and bar-tack reinforcements to honor its workwear inspirations.
 
Just 20 of these jackets have ever been made; they carry an exclusive label with one word "Verlässig" this is a play on words which means not just 'reliable', but 'reliable and stylish'. Designed in 1935, BMW's pioneering illustrator Herbert Schlenzig created the Verlässig 'emoji' and stuck it on the biggest, yellowest poster he could find. Schlenzig's poster was never published, but with gratitude BMW allowed us into their archive to use it for this special project.
TOKYO POP UP
The jacket has appeared recently at a Pop Up in Tokyo's Omotesandō run with Highsnobiety to celebrate the launch of this new line of clothing. We were honoured to have Atsushi Matsushima, Multi Producer Editor in chief of CLUTCH Magazine and Teruyuki Yoshimura, Photographer who wore the exclusive chain stitch embroidered versions of these jackets. With special thanks to Nick Clements of Mensfile magazine.
Please follow @goodswithfreude for more releases.