In detail with Kelly Dawson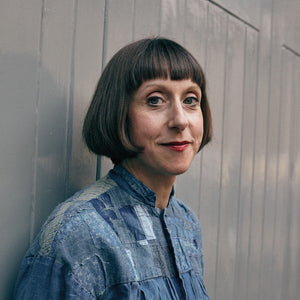 Introducing our co-founder (and namesake) Kelly Dawson. 
Kelly is a denim specialist. It's been her passion for almost 25 years and it's what gets her up in the morning (well that and her 2 year old son Lonnie). Kelly's love of craftsmanship and selvedge denim is undeniable – that's why she launched Dawson Denim with Scott back in 2012. Let's take a little walk down memory lane.
The journey started here...
I grew up in a sleepy town in the countryside in a house full of petrol heads. My Dad, a confessed "Ted", had been a Ton-Up boy (although if you asked him he didn't know what this was... he just loved bikes) in the 1950s, riding his Triumph 110 down the newly-opened M1 with my 17 year-old mum on the back. Mum had complained his Triumph 100 wasn't fast enough, so he'd upgraded. Mum was adept at making her own clothes (and ours) – growing up there wasn't a week where I went to school without a new jumper. Our dinner table wasn't used to serving dinner, instead it housed huge tubs of Swarfega and motor parts. My earliest memories were of eating Snaps in a tent at a motorcross meet. It wasn't until I was in my 30s did I dare buy my first two-wheeled vehicle, a 1959 Vespa Douglas VBA, with little 8" tyres that made me feel like I might actually fly off the roads. The love of it in my veins...


Just a job to a selvedge obsession
I had two choices when I turned 16: pursue a career in dancing or go to University and investigate my passion for fashion and textiles. I loved pattern-cutting and the technical aspect of design, so I looked into more technical courses. Leeds University accepted me in 1996 "unconditionally", which was a relief because at this point I'd discovered nightclubs and my attention was somewhat distracted (a constant theme). I finished my HND and jumped to the second year of the degree, working at bars like "Indie Joze", "The Faversham" and "Eastern Bloc records" to make ends meet. I got into denim through a shop called Hip, and I spent all my student grant in that store. It totally fuelled my streetwear fascination and I got my first introduction to selvedge there with my first pair of Diesel selvedge jeans. It was this that spurred my final collection: a whole set of denim-based items. I bought all my chambray and denim from Borowick fabrics in Soho.
A crash course in denim and a move to Istanbul
I moved to London after uni, securing a job in a buying office in a denim department. It just wasn't creative enough – I was bored and didn't fit in with my mathematics-based peers. So back to design it was. I took a position to create a denim department for a supplier to the UK high street, and unsurprisingly for me it was a huge success in the first year. I worked for countless brands after this, traveling endlessly. I did a stint in Turkey, living in Istanbul for a year and learning on the floor. By this point I'd got into a vintage scene, and DJing and clubbing was a big deal, too. Istanbul just didn't cut it for me on a personal level, so I came home and my last commercial position was Senior Product Manager for a London-based brand. I had reached a career ceiling – there was no room at the top for a woman in the industry, men held all those positions and it was a closed club. This job had me compromise all my integrity, and I was pushed to work with a questionable factory in Thailand that broke all the rules I held dear, just for a few pennies on the bottom line margin for a pair of jeans.
To the launch of Dawson Denim...
I wanted out. In 2012, Dawson Denim was born. I wouldn't compromise on quality, and I realised soon on that I would need to make each piece myself or train others to manage quality. I would only work with counties that had high environmental and strict human rights acts, paying a living wage to its employees. I looked to Japan and the contacts I'd made over my 20-year career. We bought our first machines, and I started pattern cutting, the first roll of selvedge that arrived. The rest is history.
Profile portrait by @sarahwinbornphotography
Additional photos by @dannynorthphoto @jonmortimerphotography @jimmarsdenphotography @denim.dudettes