Partners in Crime | Jacqueline and Neil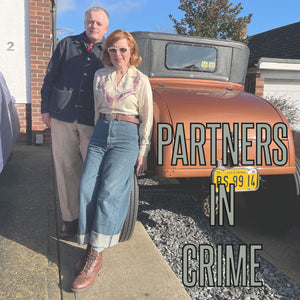 What Dawson Denim item do you own?
Neil: I own a wabash sack coat. It goes with everything, but I like it best doubled up with my ELMC wabash shirt.
Jacqueline: I have a hank dyed wide leg jeans. I fell in love with them when visiting the garage. They are my go-to soft and comfy jeans.


What's your relationship?
Carer/keeper – you decide which one is which.
When and where did you meet?
Enchantment Under The Sea Ball in 1955. 
What's a go-to social activity you love doing together?
Hot rod racing and stealing ideas at museums.
What's your favourite iconic duo?
Charles & Ray Eames. They said "take your pleasure seriously". They knew how to mix up the work and play ethic.

What's your ultimate dangerous duo in film?
Roy and Pris in Blade Runner. 
What's your number one song duet?
Joaquin Phoenix and Reese Witherspoon singing Jackson in Walk The Line.
What's your favourite superhero duo?
Mr Incredible and Elastagirl. We modelled our kitchen on theirs.
What's your go-to outfit combo?
Neil: Mister Freedom Hacendado jacket, vest and pants, Wesco engineer boots and a Stetson Open Road. Sometimes with my Dawson Denim sack coat over the top. 
Jacqueline: Jeans with Iron Ranger boots mixed with vintage or repro clothing. I paint and print my own clothing so it's nice wear unique gear, too. 
What's your favourite clothing item or accessory to wear with a denim jacket?
Neil: A good pair of jeans and a sturdy pair of boots.
Jacqueline: My 1930s calico dress.
If you could offer one Dawson Denim gift for Valentine's Day to each other?
Neil: I'll chose Dawson Denim Wabash overalls for Jacqueline. She's a hard-working gal and needs to be protected in style!
Jacqueline: I'll go for a hank dyed jeans because he's always lusting after mine.
If you own one of our pieces, you're part of the Dawson Owner Club. We'd love to see how you style it! Tag #dawsonownersclub on Instagram and we'll feature you on our page and blog!